Our mission statement has always been to treat every customer like family and do the highest quality chimney work possible.
Proudly serving Howard, Montgomery, Upper Prince George's, Frederick, Carroll County, and Washington, DC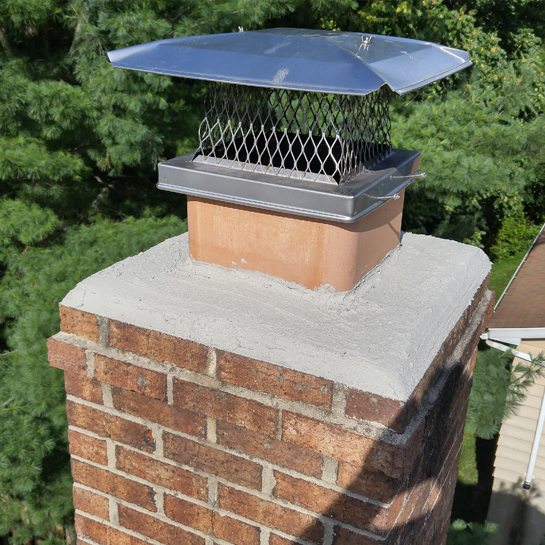 Chimney caps are the first line of defense against animals and rain from entering the flue. They are one of the easiest and most inexpensive ways to protect your chimney. Every single flue should always have a cap, even if it is unused. They can save you thousands of dollars of potential damage down the line.
MCP Chimney carries a very large selection of styles and sizes of protective chimney caps, which are also referred to as rain caps. You can choose from materials such as copper, stainless steel, and galvanized steel as well as shapes like round, square, and rectangle.We also offer all kind of fireplace chimney caps installation, replacement and repair services at a very competitive price.
It's Important to Understand How Crucial Chimney Caps are to Keeping Your Chimney in Pristine Condition.
Stop Rain

Prevent rain from entering the chimney, causing damper and firebox rust leading to expensive repairs.

Stop Animals

Prevents birds, squirrels or other rodents from entering the chimney to nest.

Discourage Downdraft

Where certain wind conditions exist the cap will discourage down drafts.

Arrest Sparks

The 18 gauge built-in screen reduces the amount of sparks and large ash that is normally blown into the air and onto rooftops.