Patios, Walkways & Stairs Masonry Services
Our mission statement has always been to treat every customer like family and do the highest quality chimney and fireplace work possible.
Proudly serving Howard, Montgomery, Upper Prince George's, Frederick, Carroll County, and Washington, DC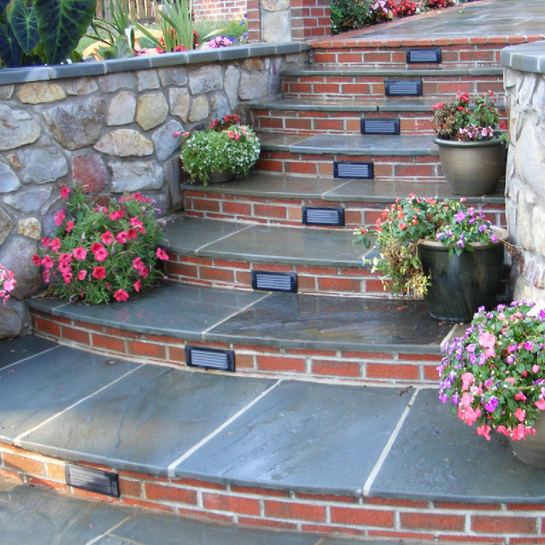 Patios, Walkways & Stairs
A new patio can add years of enjoyment to outdoor living at your home. Located in Maryland, MCP offers a variety of design options for patio, walkway and step construction. From flagstone to brick, we are able to construct a patio that meets your specifications. Our goal is to provide you with an aesthetically pleasing patio with a sturdy foundation and proper grade to last a lifetime.
Brick Patios & Custom Masonry Common Brick Varieties & Patterns
Traditional brick patios are very durable, but because there are irregularities in the surface they are prone to chipping around the edges. However, they are very low maintenance and last a long time. Laying brick is a time-consuming process and therefore brickwork can be expensive compared to other options. We begin the installation process by excavating the area and pouring a 4″ concrete bed.
The bricks are then set in a mortar bed and leveled one at a time. Lastly, all spaces between the bricks are filled with a mortar joint.We also offer Interlocking Brick Patios which can be more economical because they are set in sand, instead of mortar over concrete. We also offer Interlocking Brick Patios which can be more economical because they are set in sand, instead of mortar over concrete.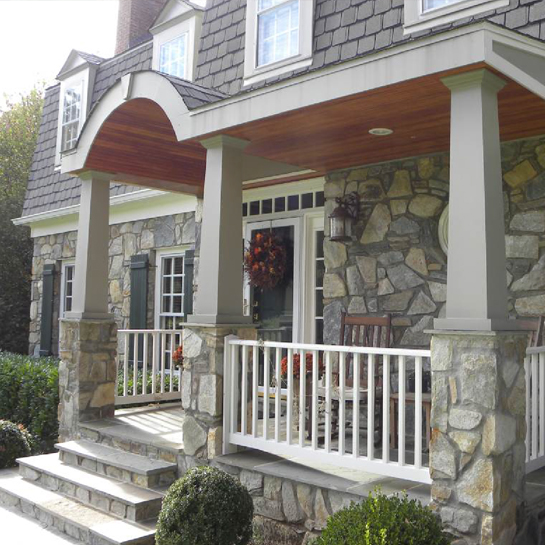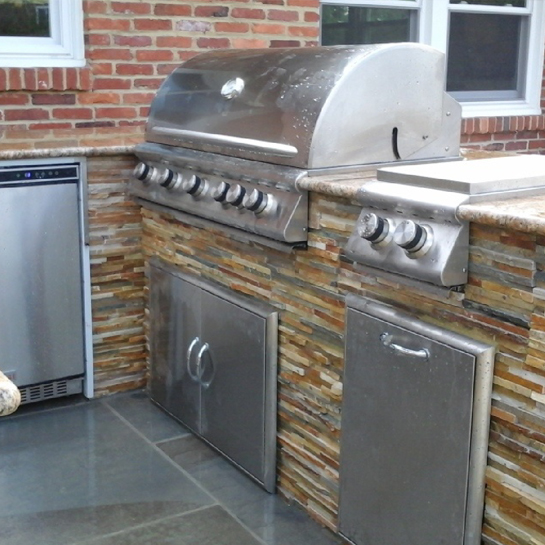 Flagstone Patios & Masonry
Flagstone is a generic term for thin flat rock that is used for paving flat surfaces. Flagstone is named from the location of the quarry it comes from. Arizona red is a reddish sandstone; Pennsylvania blue is a gray-blue. The cost of flagstone is moderate compared to other options, requires some maintenance (depending on what stones are set in) and is very aesthetically pleasing. The installation process is very similar to laying brick. However, the stones can be set directly over the soil, sand or stone-dust which will reduce the cost. Subsequently, the stones can move and shift over time and will have to be readjusted from time to time.
Building Patios with Paving Stones
Paving stones are available in a wide variety of colors and finishes that can match the architectural style of your home. The paving stones is more affordable today than before. When one compares similar aspects of a stamped concrete patio done correctly costs are usually less. However when the advantages of each are compared the paving stones far outweigh the concrete. 
Concrete will crack and paving stones will not; stamped concrete will fade and the exact colors can't always be predicted, whereas paving stones colors can be seen and chosen before they go in; concrete has no warranty against; cracking paving stones have a lifetime warranty; concrete cannot be repaired without noticing the repair marks; paving stones can be replaced without seeing any evidence of the repair; concrete is an artificial copy where each paving stones is a unique unit.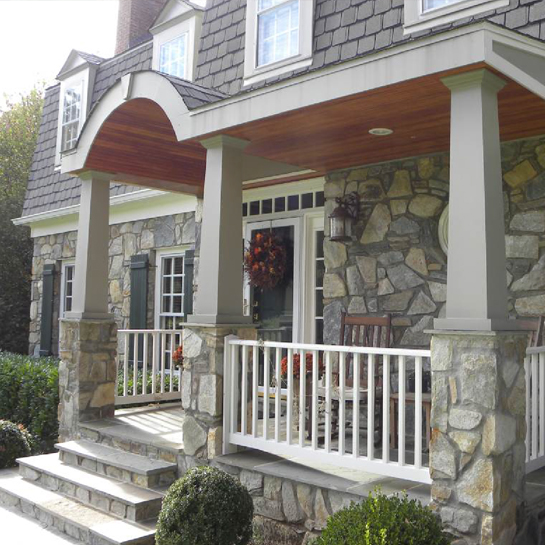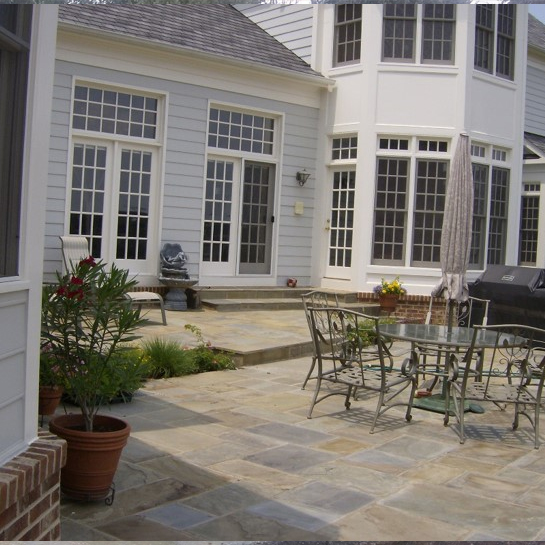 Patios built out of concrete are constructed out of 4 inches of 2000 psi concrete with ½ inch rebar placed every 24 inches on center going in both directions. The soil underneath is well compacted to limit the amount of cracking in the concrete over time.