Chimney Inspection Services
Our mission statement has always been to treat every customer like family and do the highest quality chimney work possible.
Proudly serving Howard, Montgomery, Upper Prince George's, Frederick, Carroll County, and Washington, DC
Three Levels of Chimney Inspections
Our Level 1 Chimney Inspection was designed to inspect the visible and accessible areas of your chimneys interior and exterior. This inspection is recommended if you wish to continue using your chimney the same way you have always used it, with the same appliance. The Level 1 Chimney Inspection is considered to be a standard inspection to ascertain if any potential areas or blockages are a cause for alarm. During a Level 1 Chimney Inspection, a certified technician will look into the structural integrity, flue, and connection of your appliances. We will be mainly looking to make sure your chimney does not contain any combustible deposits or blockages.
The Level 2 chimney inspection is required in the event that you have suffered a chimney malfunction or other damaging circumstance. This can include but is not limited to fires, earthquakes, hurricanes, tornadoes, hailstorms, tree falls, or other natural phenomena. A Level 2 chimney inspection is also required after any changes to your system has been made. A system change can be considered adjusting the fuel type, switching appliances, or upgrading your flue. During your Level 2 Chimney Inspection, we will utilize video imaging appliances to inspect the internal surface, and all flue liners among other aspects. If during a Level 2 Chimney Inspection, we discover hazards that need to be further inspected by removing sections of your chimney, a Level 3 Chimney Inspection will be required.
A Level 3 Chimney Inspection is the most extensive form of Chimney Inspection available. It will involve the removal of certain sections or components of the Chimney. In order to properly inspect the extent of the damaged or hazardous areas, we may need to remove the chimney crown, interior chimney walls, or other segments. This is only required to gain access to the specific area in question. In certain chimneys that have not been utilized for prolonged periods, a Level 3 Chimney Inspection may be required to determine the operational status. The certified technician will utilize state-of-the-art tools and equipment to safely and efficiently analyze your chimney in detail. After our analysis, we will help you understand exactly the problem, and how it can be resolved.
Our highly skilled and experienced team of technicians take great pride in the work we do. We understand that you are trusting us inside your home. That is why we treat each and every one of our customers like family.
We have been proudly serving the Howard, Montgomery, Prince George's, and Carroll County areas for many years. It is a great privilege for us to say that our team is one of the best in the business.
Periodically inspecting your chimney is critical to maintaining the safety of your family. Let us help you to prevent the onset of fires and smoke hazards by performing chimney inspection services!
No one is better suited to inspect your chimney than us. We genuinely care about your property and will go above and beyond the call of duty. Our philosophy is centered around the belief that affordability and quality should be the mainstay of any service provider. That is why you will find that we offer reasonably economical options for everyone.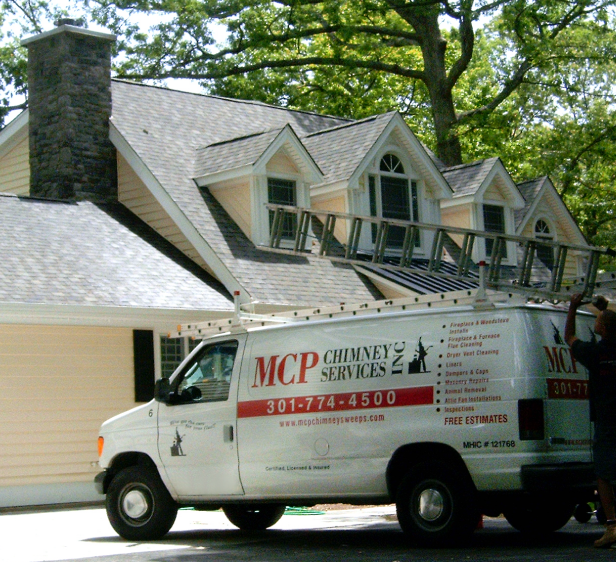 To begin, we will undergo an inspection of your chimney to determine its existing damage or system modifications. We will quickly be able to decide if you require a level 1, 2 or 3 Chimney Inspection. Due to our years of experience, we understand how to perform quality inspections that you can depend on. During your Inspection, the certified technician will be searching for hazardous signs that pose a potential threat to the safety of your family.
In the event that we discover hazardous blockages or operational defects in your chimney, we will undergo a more in-depth Inspection of the affected area. This type of Inspection is often required after natural weather events like hurricanes, tornadoes, earthquakes and other events. The technician will typically utilize specialized imaging tools to get a clearer picture of the problem. At this stage, no demolition or removal of chimney segments are necessary.
Certain areas of your chimney will be concealed and require the removal of certain segments. This can include but is not limited to parts of your home's structure, exterior chimney walls, and permanently attached parts of the chimney. After gaining direct access to hazardous blockages, obstructions, and critical damage, we can begin to determine the extent of repairs required. This is typically the final stage of your inspection and will culminate in MCP providing you with a detailed restoration or repair sheet to get your chimney back in working order.